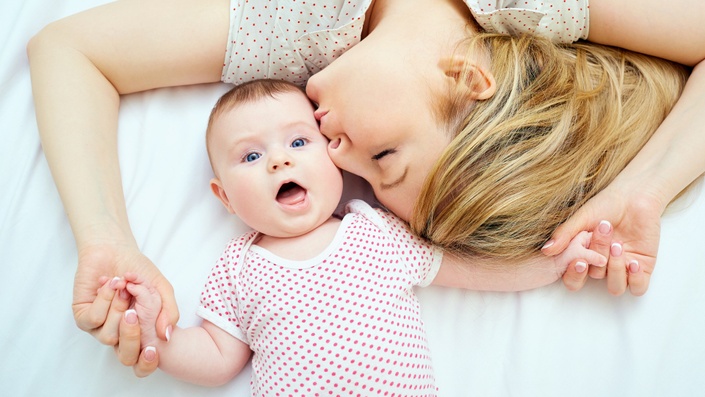 The Lullaby Guitar Course
Learn to sing your baby to sleep with a guitar in less than one hour.
Watch Promo
One hour is all it takes to learn lullabies on the guitar. One. Hour.

Recently, a very close friend of mine had her first baby. Her new daughter is a cutie! Like many first-time new parents, my friend didn't have a lot of time. Between changing diapers and loving her baby, she was super busy. She told me that she was overwhelmed with the excitement of having this baby around, which also meant she had far less time to devote to things she wanted to do. This was okay because caring for her daughter gave her so much pleasure.

My friend wanted to learn to play guitar for years. When I approached her to see if she wanted to learn guitar and sing lullabies for her baby, she got super excited! Not 30 seconds later, she got super worried that it would be too hard. Since I've been a guitar teacher for more than a decade, it seemed like a wonderful challenge to help her learn lullabies without any extra stress. What happened was magical!

The first lullaby my friend learned was Brother John, otherwise known as Frere Jacques. I taught her how to tune her guitar in five minutes, how to play her first chord in another five minutes, and then after I demonstrated the song for her she jumped right in and sang for her baby immediately, right on the spot. You should have seen the smile on this baby! She was sooooo happy! My friend was surprised that she could learn a simple lullaby with just one chord. Not only that, but I showed her three more lullabies that required just one extra chord. Within an hour, she could play and sing four lullabies.

I told my friend I was thinking of making an online course on teaching songs to sing to babies and she said it was a great idea. She was also very clear about what I needed to do:
"Dave, you need to make sure that you make it easy for people to learn. First-time parents need a win. They want to do things right for their babies, but lack the experience to do it well. If you can make learning lullabies easy, you'll do great."

That sort of feedback was priceless. I know it's easy to learn anything if you have the right method, so I put a lot of effort into making this really easy to learn.

Learning to sing a lullaby should be the easiest and most natural thing for parents to do. It shouldn't take very much time to learn a song to sing to a baby! Here's my promise to you: This course will show you seven songs to sing to your baby without it taking any extra time or energy on your part. In fact, you can learn all of these lullabies when your baby is sleeping!

My friend now has seven baby songs to sing, and she sings on a daily basis. She does it with her own voice, her own guitar, and her own love for her baby.

This course can show you how, too.

This course is 100% beginner friendly. It was designed for people who have zero experience on guitar and zero experience singing.

Frequently Asked Questions
I am a new parent and I'm overwhelmed with parenting. How hard is this course?
This course is designed to be 100% simple. It was designed to take one hour to complete. Learning songs to sing to infants is incredibly easy!
Is this course only for babies that have already been delivered?
Not at all! Babies that are in-utero can hear their mother's voice, which includes singing. Mothers who are expecting can easily sing and play these lullabies. I've even included a section on how to hold a guitar if you're expecting.
What will I learn if I purchase this course?
You will learn how to play and sing seven songs to sing to a baby using a guitar.
How long will this course take me to complete?
If you have any experience with music, it will take you 20 minutes to learn your first lullaby. If you have zero experience with music, it will take you about an hour to learn your first lullaby.
When does the course start and finish?
The course starts now and never ends! It is a completely self-paced online course - you decide when you start and when you finish.
What do I need to do this course?
A guitar, a smartphone, a guitar capo, and a printout of the course workbook. Keep in mind I cover what you'll need in the course, and I've provided a TON of downloads and links to products that are great quality.
I haven't delivered my baby yet and my tummy is HUGE! Is this course still for me?
Yes! Absolutely! I'll even show you how to hold a guitar if you're currently expecting.
What if my guitar needs to be serviced?
Take it to a local guitar shop and ask them to take a look at it for you, and ask for an estimate. If the estimate comes out to be more than $30, then tell them you think that's too expensive and ask them why it's so much. Most guitar repairs are less than $30 to do.
I don't have a guitar. Can I still learn to sing these lullabies?
Absolutely, but having a guitar makes it easier. I have included a full guitar-buying guide with the purchase of this course. BTW, an excellent guitar will cost you around $200-$300.
I am super stressed out with my kids and I have so little time to learn, but I want to learn to sing! Is this course easy enough for me to learn?
Absolutely. I took great care in making each topic 100% clear and transparent. By the end of this course, you'll definitely have a number of baby songs to sing!
How long do I have access to the course?
How does lifetime access sound? After enrolling, you have unlimited access to this course for as long as you like - across any and all devices you own.
I am a grandmother/grandfather/aunt/uncle. Can I still learn these lullabies?
Yes! Anyone can. I've deliberately structured this course to be so simple that anyone can do it. Learning songs to sing to babies has never been easier.
What if I am unhappy with the course?
I would never want you to be unhappy! If you are unsatisfied with your purchase, contact me in the first 30 days and I will give you a full refund.
I am tone deaf. Is this course even for a person like me?
Yes! Your baby doesn't care that you sing in tune. It cares that you try to connect with it! Singing, in any form and even if you're tone deaf, is a way to connect with your baby and make it happy!
This course is great for anyone who wants to sing a lullaby for a baby. This includes aunts and uncles, grandmothers, and grandfathers, and friends.

Class Curriculum
Getting Started
Available in days
days after you enroll
Learn Your First Lullaby
Available in days
days after you enroll
Lullabies That Use The G and D Chords
Available in days
days after you enroll
Babies do great with music, and there are plenty of studies that prove it. Here are just a few:

Your Instructor
Dave Wirth has been teaching guitar in private lessons for more than a decade, and has been playing guitar for more than twenty five years. He managed to successfully audition for the guitar program at Bowling Green State University without knowing how to read music notation. He graduated with a bachelors degree in jazz and classical guitar performance from Bowling Green. Despite having only three years of experience on classical guitar, Dave also successfully auditioned for the Eastman School of Music, widely regarded as a top music school. He graduated from Eastman with a masters degree in classical guitar performance and literature. Dave moved to Austin, Texas in 2003 to escape the depressing cold of the Northeast. Three years later he opened The School of Feedback Guitar. The School of Feedback Guitar continues to grow to this day.